One of the biggest challenges for workers' comp attorneys is finding new cases. Thousands of law firms are investing in digital marketing, but unless you've hired a new employee to work on your marketing full-time, you may not know where to start. Workers' comp marketing can be easier than it may seem. Here are a couple of tips that might help your workers' comp firm's website perform better on search results and attract more workers' compensation claimants.
1. If you win a claim against a big company, consider publishing client testimonials.
Client testimonials are excellent for any business, but especially law firms. If an injured employee sees that someone else vouched for your firm, he or she may be more likely to reach out. These should be included in your workers' compensation marketing strategy.
This is especially true if you've helped someone who works at a nationwide company. For example, WalMart alone currently has 1.5 million employees, while McDonald's has 420,000 employees. About 75 businesses in the US have 100,000 employees or more. If you win a claim against one of the biggest companies in the US, you should promote this victory as much as possible on your website! It gives new workers' comp claimants hope for success, and a great reason to give your law firm a call.
2. Go local in your workers' compensation lawyer marketing strategy.
In July 2014, Google released a search engine update known as "Pigeon." Pigeon gives preference to local results whenever a consumer is searching online. It can allow your firm's site to pop up in a search result for "workers' compensation attorney Boston" ahead of competitors, if you're located in the city while others are on the outskirts.
This is a great strategy if your firm is located in a big city where hundreds of employees are injured every day, but Pigeon may only positively affect your firm if you focus on a neighborhood. The updated broke a city into smaller components, so you should hone in on your neighborhood's keywords when optimizing your site. For example, some neighborhoods in Boston include:
Back Bay
South Boston
Downtown
Chinatown
And more. We can see Pigeon select local results via a map here: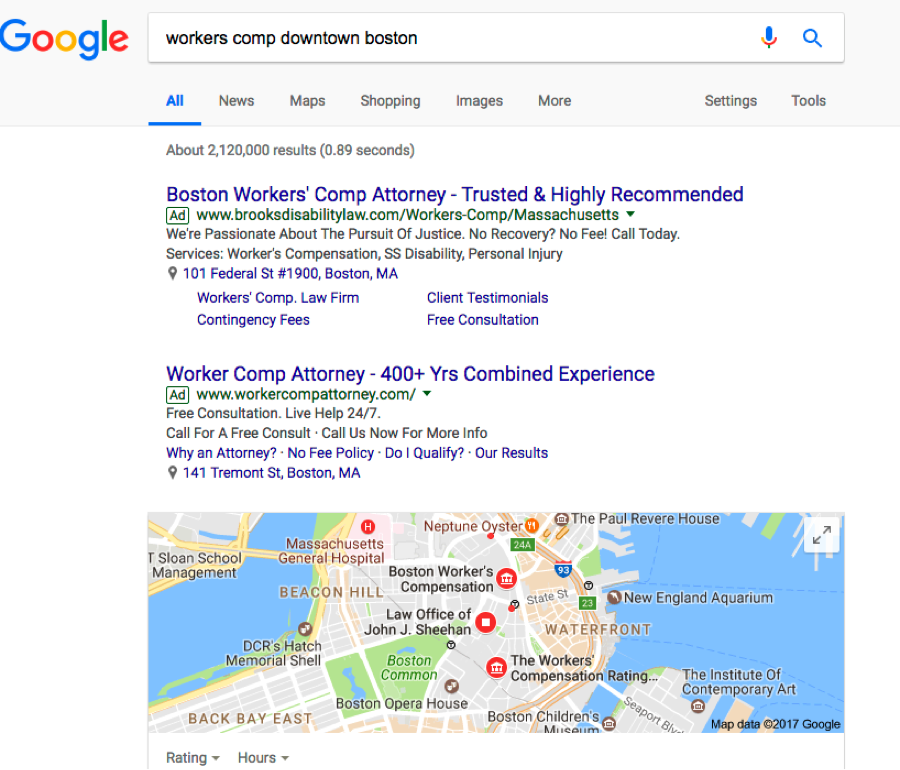 While a couple of ads do show up first, the best organic results are local via the map. Once you can focus on your firm's location, you can get more local visitors to your website.
3. Improve your conversions by focusing on contingency fees.
Even if you manage to get a lot of traffic to your website, a lot of workers' compensation claimants may hesitate to speak with an attorney due to the fear of fees, especially as they're likely too ill to work and may not be earning income at the same time.
A good marketing strategy for any attorney is to promote the fact that you charge employees on a contingency basis, meaning there's truly no harm in speaking with a workers' compensation lawyer. Consider saying that they can speak with an attorney with your firm "For Free" or with "No Obligations" online—Verbiage and copy can make a huge difference in conversion rates.
4. Supplement your workers' comp caseload today!
Digital marketing takes months of effort to see any fruit, and can be very expensive to get off the ground. If you'd like to supplement your current workers' compensation caseload with workers' compensation leads for attorneys, give us a call at 617.800.0089. We'd be happy to discuss our workers' compensation lead availability and pricing with you and your staff today!