One of the fastest ways to generate leads for your firm is by investing in Google Ads. While often expensive for attorneys, millions of potential claimants click on ads from Google every single year. Writing a savvy ad that tempts users to click is important, but ad extensions are a great way to entice users to choose your ad over your competitions'. Ad extensions are additional pieces of information about your law firm. While there are nearly 20 ad extensions you can choose to add to any campaign, here are four extensions you may find most beneficial.
Call Extensions
A call extension is a phone number or simply a "call" button displayed on ads geared towards getting claimants to call your firm, not simply fill out a Free Evaluation online. You can choose to increase your average CPC for mobile users, giving you a higher chance of someone clicking on your call extension ad.
Why are call extensions important? All attorneys know speaking to a claimant over the phone is far more valuable than getting an online case description. You can quickly vet the lead and determine if his or her case is perusable. While call extensions can be expensive, they typically convert at a higher percentage than users who click through to your website.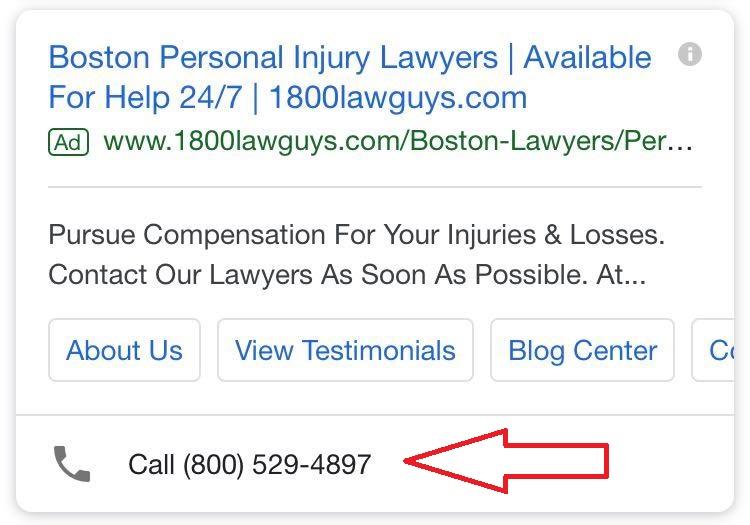 Sitelink Extensions
A sitelink extension is exactly as it sounds—when enabled, there will be two or more links to different pages on your firm's website displayed on your PPC ad. While there's no way to guarantee that all or any of your sitelink extensions will display, this is a great way to increase the size of your ad and bring users to some of your top-converting pages. Best of all, when you edit sitelink extensions you're not editing your ad, so there is no review process via Google and you won't miss out on any potential traffic.
A Social Security disability attorney may want to link to pages on Social Security Disability Insurance to entice high-quality traffic to their site. Personal injury attorneys could consider having one sitelink per area of personal injury law they handle. The options for sitelinks are endless, but keep in mind that they're still landing pages for ads. If you don't have an easily accessible Free Evaluation form on pages you use for sitelink extensions, you'll waste your ad budget.

Location Extensions
A location extension allows you to display your firm's address, a map to your location from the user's location, or the distance to your office from a user's location. No additional links are viewable on location extensions—they simply bring more information onto the search engine result page.
While this may seem most relevant for storefronts or restaurants, the big benefit of including location extensions is that reviews from Google are also included in location extensions. If you have a high number of positive reviews on Google, claimants may be more tempted to click on your ad and work with your firm than your competition. This can be incredibly valuable for personal injury attorneys in particular, as PI is one of the most competitive and saturated areas of law.

Callout Extensions
Callout extensions are a relatively new feature to Google Ads. With a callout extension, you can "call out" benefits of working with your firm. This type of ad extension is very similar to sitelink extensions, but they're not clickable. You can include up to four "call outs" per ad.
So why include callout extensions when they're essentially just a sitelink extension without the link? There are still benefits of using this extension, especially if there are numerous legal options in your city. Callout extensions help you highlight unique features of your law firm, such as a 100% free evaluation or no fees unless you win your client's case. You can also cater callout extensions for mobile vs. desktop traffic, meaning these extensions can be as specific to one area of law or as broad as you'd like.

On the whole, the more extensions you use, the better your ads will perform. Google uses extensions when calculating your AdRank, so you may actually pay less per click while using sitelink extensions when compared to a competitor who has none. All in all, there is never any harm in making a more robust ad, so long as you're doing your due diligence and writing ads carefully.