According to a survey conducted by FindLaw, nearly 40% of people looking for an attorney conducted their search online in 2014. Internet searches are now hands-down the most commonly used way claimants selected attorneys to hire.
If potential clients find their way to your firm's website, they might learn how your firm can help them win their claims, but the wrong images on your site could put them off working with you.
Here's the million-dollar question: How do you pick the right images for your website?
Your firm's images are immediately apparent to the viewer. They also act as a psychological primer, subtly influencing the judgments your prospective clients make about your site.
Since you want your website visitors to become your clients, it follows that the images that you put on your site should entice them to become a client. When choosing images for your site, there are a few guidelines that will help you choose images that send the right signal to the viewer:
Make it "Feel" Right:
If you're using stock photos, they can sometimes look a bit "too perfect", especially images with people in them. Avoid photos that look staged. If it a stock image looks fake to you, it looks fake to your visitors as well.
Images like these may also convey a low-rent quality to your site, and by extension, your firm. Someone searching for an attorney to hire will have no reason to pick one that appears cheap. Moreover, who wants to have a cheap looking website?
The best stock images are ones that convey the qualities that you want people to think about when they think about your law firm. Be very discerning when it comes to these images. Let's take a look at two examples: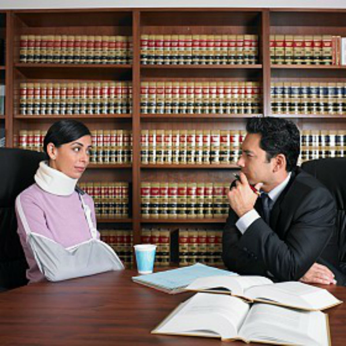 This stock image lawyer looks attentive, helpful. It communicates those qualities to your prospective clients.