Throughout the year, the SSA updates the hearing office approval rates. This data can help Social Security disability attorneys make decisions about their practices. To simplify utilizing the SSA data, we compiled a list of each hearing office and the approval rates based on decisions made from October 1, 2022 through July 28, 2023.
Each hearing office varies for the award percentage. The lowest being 36.72% (Middlesboro, KY) and the highest being 77.82% (Ponce, PR). The overall average for hearing office approval rates nationwide is 56.66%.
The current top 10 hearing offices with the highest approval rates are:
Ponce, PR - 77.82%
Queens, NY - 76.00%
New York Varick, NY - 74.36%
Rochester, NY - 74.11%
Oak Park, IL - 72.00%
Sacramento, CA - 71.03%
Charlotte, NC - 70.61%
Jersey City, NY - 69.97%
Tulsa OHO, OK - 69.73%
South Jersey, NJ - 69.57%
To best use this data, your firm can take cases in areas with a high approval rate. eGen allows your firm to create a custom lead package with an option to screen leads by a three-digit zip code prefix. Using this, you can receive leads located near a specific OHO.
To learn more about eGen's exclusive SSD leads and availability near specific OHO offices, contact us today!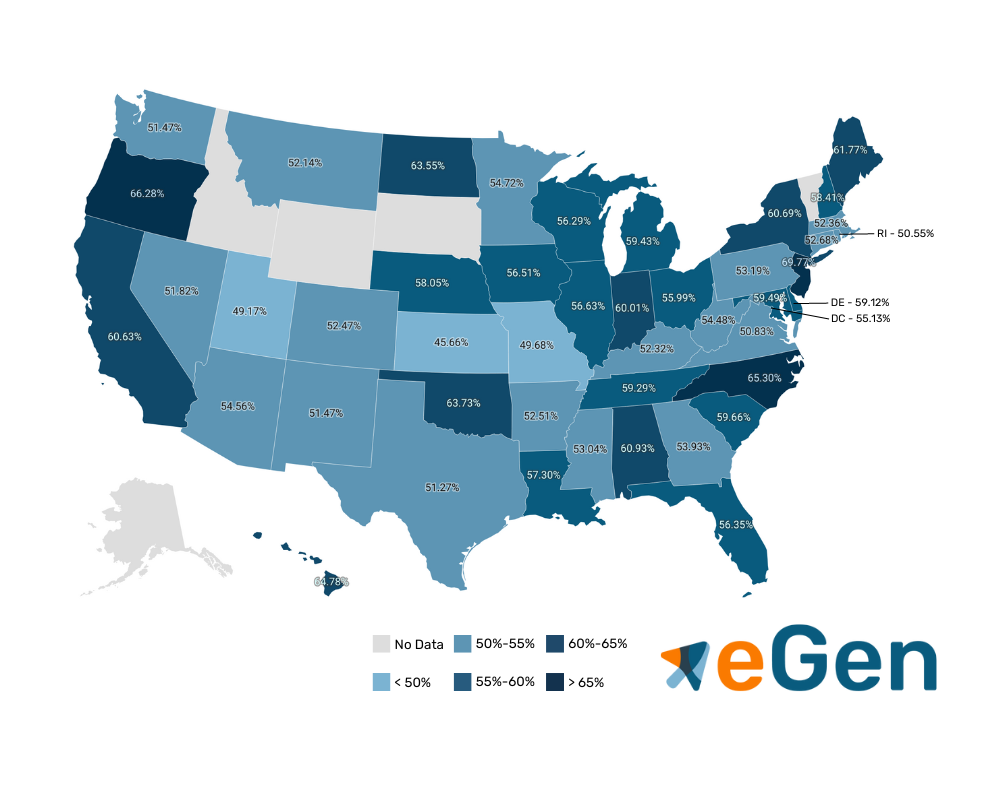 | | | | | |
| --- | --- | --- | --- | --- |
| State | Hearing Office | Decisions | Awards | % Favorable |
| AL | BIRMINGHAM | 2325 | 1138 | 48.95% |
| AL | MOBILE | 2346 | 1573 | 67.05% |
| AL | MONTGOMERY | 1828 | 1249 | 68.33% |
| AR | FORT SMITH | 1474 | 944 | 64.04% |
| AR | LITTLE ROCK | 1836 | 794 | 43.25% |
| AZ | PHOENIX DOWNTOWN | 1349 | 658 | 48.78% |
| AZ | PHOENIX NORTH | 800 | 429 | 53.63% |
| AZ | TUCSON | 965 | 612 | 63.42% |
| CA | FRESNO | 598 | 373 | 62.37% |
| CA | LONG BEACH | 459 | 215 | 46.84% |
| CA | LOS ANGELES DOWNTOWN | 621 | 376 | 60.55% |
| CA | LOS ANGELES WEST | 1457 | 873 | 59.92% |
| CA | MORENO VALLEY | 685 | 371 | 54.16% |
| CA | OAKLAND | 993 | 654 | 65.86% |
| CA | ORANGE | 1429 | 796 | 55.70% |
| CA | PASADENA | 594 | 347 | 58.42% |
| CA | SACRAMENTO | 1512 | 1074 | 71.03% |
| CA | SAN BERNARDINO | 1181 | 778 | 65.88% |
| CA | SAN DIEGO | 1381 | 787 | 56.99% |
| CA | SAN FRANCISCO | 391 | 238 | 60.87% |
| CA | SAN JOSE | 531 | 335 | 63.09% |
| CA | SAN RAFAEL | 772 | 523 | 67.75% |
| CA | SANTA BARBARA | 377 | 221 | 58.62% |
| CA | STOCKTON | 599 | 273 | 45.58% |
| CO | COLORADO SPRINGS | 1123 | 496 | 44.17% |
| CO | DENVER | 1791 | 1033 | 57.68% |
| CT | HARTFORD | 1246 | 618 | 49.60% |
| CT | NEW HAVEN | 1035 | 508 | 49.08% |
| CT | NORWALK | 2210 | 1240 | 56.11% |
| DC | WASHINGTON | 878 | 484 | 55.13% |
| DE | DOVER | 658 | 389 | 59.12% |
| FL | FORT MYERS FL | 904 | 599 | 66.26% |
| FL | FT LAUDERDALE | 2249 | 1081 | 48.07% |
| FL | JACKSONVILLE | 1878 | 908 | 48.35% |
| FL | MIAMI OHO | 1501 | 964 | 64.22% |
| FL | ORLANDO | 2200 | 1271 | 57.77% |
| FL | ST PETERSBURG FL OHO | 1939 | 1111 | 57.30% |
| FL | TALLAHASSEE FL OHO | 1121 | 658 | 58.70% |
| FL | TAMPA OHO | 2452 | 1435 | 58.52% |
| GA | ATLANTA DOWNTOWN | 1661 | 881 | 53.04% |
| GA | ATLANTA NORTH | 1339 | 789 | 58.92% |
| GA | COVINGTON | 1361 | 863 | 63.41% |
| GA | MACON | 1292 | 580 | 44.89% |
| GA | SAVANNAH | 1083 | 520 | 48.01% |
| HI | HONOLULU | 565 | 366 | 64.78% |
| IA | WEST DES MOINES | 1589 | 898 | 56.51% |
| IL | CHICAGO | 1790 | 976 | 54.53% |
| IL | EVANSTON | 1761 | 1057 | 60.02% |
| IL | NHC CHICAGO | 1471 | 738 | 50.17% |
| IL | OAK BROOK | 1009 | 548 | 54.31% |
| IL | OAK PARK | 2339 | 1684 | 72.00% |
| IL | ORLAND PARK | 1477 | 710 | 48.07% |
| IL | PEORIA | 1029 | 446 | 43.34% |
| IN | EVANSVILLE | 1463 | 788 | 53.86% |
| IN | FORT WAYNE | 1044 | 638 | 61.11% |
| IN | INDIANAPOLIS | 3027 | 1832 | 60.52% |
| IN | VALPARAISO | 1097 | 721 | 65.72% |
| KS | TOPEKA | 648 | 272 | 41.98% |
| KS | WICHITA | 883 | 427 | 48.36% |
| KY | LEXINGTON | 2124 | 1131 | 53.25% |
| KY | LOUISVILLE | 1989 | 1116 | 56.11% |
| KY | MIDDLESBORO | 915 | 336 | 36.72% |
| KY | PADUCAH | 1103 | 625 | 56.66% |
| LA | METAIRIE | 813 | 396 | 48.71% |
| LA | NEW ORLEANS | 1511 | 887 | 58.70% |
| LA | SHREVEPORT | 650 | 421 | 64.77% |
| MA | BOSTON | 1370 | 668 | 48.76% |
| MA | LAWRENCE MA | 1117 | 626 | 56.04% |
| MA | SPRINGFIELD | 750 | 401 | 53.47% |
| MD | BALTIMORE | 1590 | 1042 | 65.53% |
| MD | NHC BALTIMORE | 1849 | 1004 | 54.30% |
| ME | PORTLAND ME | 960 | 593 | 61.77% |
| MI | DETROIT | 1723 | 1051 | 61.00% |
| MI | FLINT | 1361 | 779 | 57.24% |
| MI | GRAND RAPIDS | 1271 | 776 | 61.05% |
| MI | LANSING | 1611 | 897 | 55.68% |
| MI | LIVONIA MI | 1390 | 904 | 65.04% |
| MI | MT PLEASANT MI | 1396 | 794 | 56.88% |
| MN | MINNEAPOLIS | 2286 | 1251 | 54.72% |
| MO | COLUMBIA | 576 | 339 | 58.85% |
| MO | CREVE COEUR | 468 | 254 | 54.27% |
| MO | KANSAS CITY | 2442 | 1164 | 47.67% |
| MO | NHC ST LOUIS | 1136 | 570 | 50.18% |
| MO | SPRINGFIELD | 1221 | 531 | 43.49% |
| MO | ST LOUIS | 2309 | 1192 | 51.62% |
| MS | HATTIESBURG | 1676 | 782 | 46.66% |
| MS | JACKSON MS OHO | 1337 | 655 | 48.99% |
| MS | TUPELO | 1214 | 805 | 66.31% |
| MT | BILLINGS | 936 | 488 | 52.14% |
| NC | CHARLOTTE | 2140 | 1511 | 70.61% |
| NC | FAYETTEVILLE NC | 1814 | 1165 | 64.22% |
| NC | GREENSBORO | 1308 | 904 | 69.11% |
| NC | RALEIGH | 2366 | 1401 | 59.21% |
| ND | FARGO | 1369 | 870 | 63.55% |
| NE | OMAHA | 1590 | 923 | 58.05% |
| NH | MANCHESTER | 1652 | 965 | 58.41% |
| NJ | JERSEY CITY | 1342 | 939 | 69.97% |
| NJ | SOUTH JERSEY | 1390 | 967 | 69.57% |
| NM | ALBUQUERQUE | 1167 | 604 | 51.76% |
| NM | NHC ALBUQUERQUE | 982 | 502 | 51.12% |
| NV | LAS VEGAS | 1434 | 745 | 51.95% |
| NV | RENO | 158 | 80 | 50.63% |
| NY | ALBANY | 1688 | 1032 | 61.14% |
| NY | BRONX | 826 | 480 | 58.11% |
| NY | BUFFALO | 1096 | 606 | 55.29% |
| NY | LONG ISLAND | 1593 | 1036 | 65.03% |
| NY | NEW YORK | 1843 | 1163 | 63.10% |
| NY | NEW YORK VARICK | 546 | 406 | 74.36% |
| NY | NEWARK | 1469 | 750 | 51.06% |
| NY | QUEENS | 925 | 703 | 76.00% |
| NY | ROCHESTER | 564 | 418 | 74.11% |
| NY | SYRACUSE | 2010 | 1020 | 50.75% |
| NY | WHITE PLAINS | 1399 | 858 | 61.33% |
| OH | AKRON | 2019 | 1160 | 57.45% |
| OH | CINCINNATI | 1410 | 782 | 55.46% |
| OH | CLEVELAND | 2338 | 1233 | 52.74% |
| OH | COLUMBUS | 1537 | 886 | 57.64% |
| OH | DAYTON | 1276 | 768 | 60.19% |
| OH | TOLEDO | 1832 | 1001 | 54.64% |
| OK | MCALESTER | 761 | 349 | 45.86% |
| OK | OKLAHOMA CITY | 2347 | 1524 | 64.93% |
| OK | TULSA OHO | 1794 | 1251 | 69.73% |
| OR | EUGENE | 861 | 549 | 63.76% |
| OR | PORTLAND OR | 1894 | 1277 | 67.42% |
| PA | ELKINS PARK | 1988 | 1153 | 58.00% |
| PA | HARRISBURG | 1201 | 539 | 44.88% |
| PA | JOHNSTOWN | 427 | 182 | 42.62% |
| PA | PHILADELPHIA | 1087 | 578 | 53.17% |
| PA | PHILADELPHIA EAST | 433 | 223 | 51.50% |
| PA | PITTSBURGH | 1327 | 620 | 46.72% |
| PA | SEVEN FIELDS | 1505 | 1032 | 68.57% |
| PA | WILKES BARRE | 1819 | 879 | 48.32% |
| PR | PONCE | 550 | 428 | 77.82% |
| PR | SAN JUAN | 2305 | 1477 | 64.08% |
| RI | PROVIDENCE | 821 | 415 | 50.55% |
| SC | CHARLESTON | 1309 | 706 | 53.93% |
| SC | COLUMBIA | 2174 | 1316 | 60.53% |
| SC | FLORENCE | 1252 | 700 | 55.91% |
| SC | GREENVILLE | 1768 | 1158 | 65.50% |
| TN | CHATTANOOGA | 1503 | 998 | 66.40% |
| TN | FRANKLIN TN | 1745 | 939 | 53.81% |
| TN | KINGSPORT | 2048 | 1297 | 63.33% |
| TN | KNOXVILLE | 1468 | 879 | 59.88% |
| TN | MEMPHIS | 1269 | 641 | 50.51% |
| TN | NASHVILLE | 1263 | 758 | 60.02% |
| TX | DALLAS DOWNTOWN | 1263 | 709 | 56.14% |
| TX | DALLAS NORTH OHO | 2447 | 1437 | 58.72% |
| TX | FORT WORTH | 1755 | 847 | 48.26% |
| TX | HOUSTON NORTH | 2661 | 1411 | 53.03% |
| TX | HOUSTON WEST | 2088 | 987 | 47.27% |
| TX | RIO GRANDE VALLEY TX | 712 | 358 | 50.28% |
| TX | SAN ANTONIO | 3288 | 1539 | 46.81% |
| UT | SALT LAKE CITY | 1322 | 650 | 49.17% |
| VA | ALEXANDRIA | 1198 | 600 | 50.08% |
| VA | CHARLOTTESVILLE | 566 | 264 | 46.64% |
| VA | NHC FALLS CHURCH | 1802 | 982 | 54.50% |
| VA | RICHMOND | 1027 | 438 | 42.65% |
| VA | ROANOKE | 709 | 411 | 57.97% |
| WA | SEATTLE | 1355 | 664 | 49.00% |
| WA | SPOKANE | 1058 | 641 | 60.59% |
| WA | TACOMA | 775 | 336 | 43.35% |
| WI | MADISON | 1167 | 750 | 64.27% |
| WI | MILWAUKEE | 1613 | 815 | 50.53% |
| WV | CHARLESTON | 1583 | 929 | 58.69% |
| WV | HUNTINGTON WV | 792 | 415 | 52.40% |
| WV | MORGANTOWN | 1199 | 603 | 50.29% |
*https://www.ssa.gov/appeals/DataSets/03_ALJ_Disposition_Data.html